Ingrid Kæseler
'Extract'

OFFICINET, Bredgade 66, 1260 København K
30. marts - 21. april 2019
åben tir-fre 12-16, ons 12-18 lør-søn+helligdage 12-17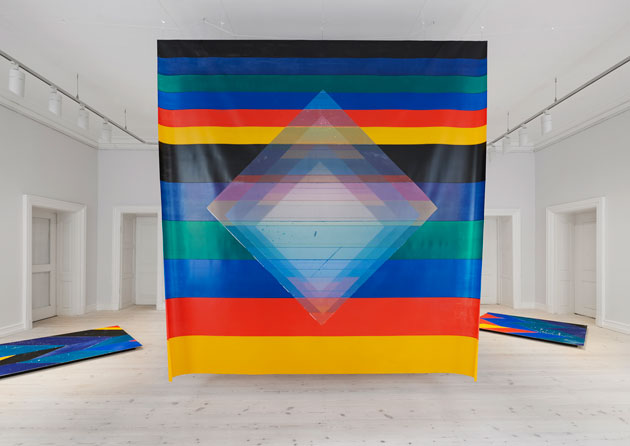 Ingrid Kæseler: 'Extract' 2019, akryl på gaze og aluminium, 300 x 300 x 240 cm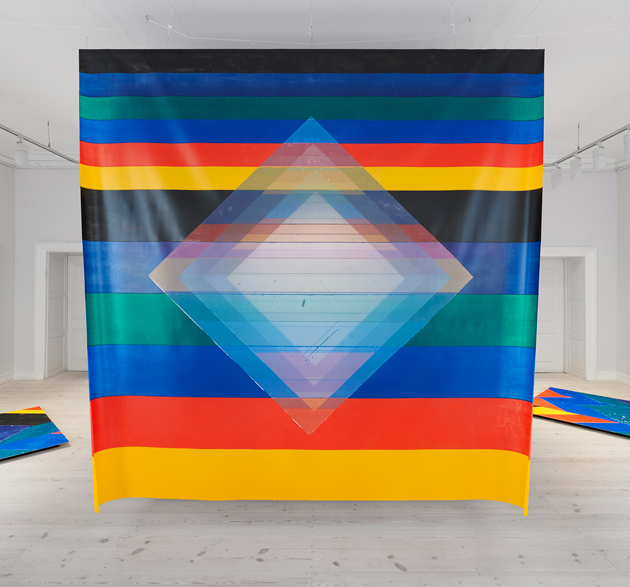 Ingrid Kæseler: 'Extract' 2019, akryl på gaze og aluminium, 300 x 300 x 240 cm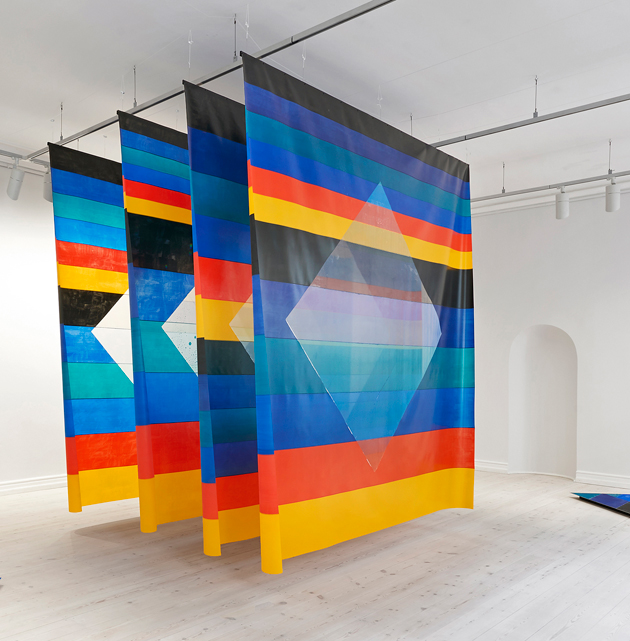 Ingrid Kæseler: 'Extract' 2019, akryl på gaze og aluminium, 300 x 300 x 240 cm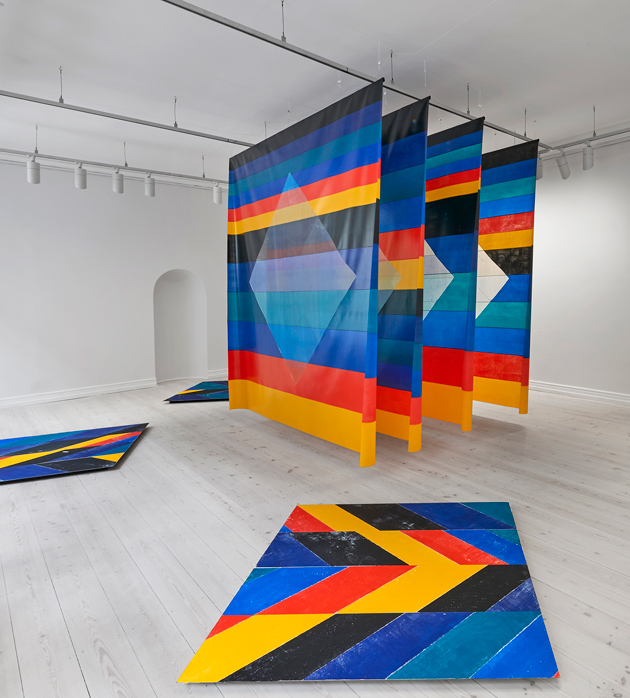 Ingrid Kæseler: 'Extract' 2019, installation view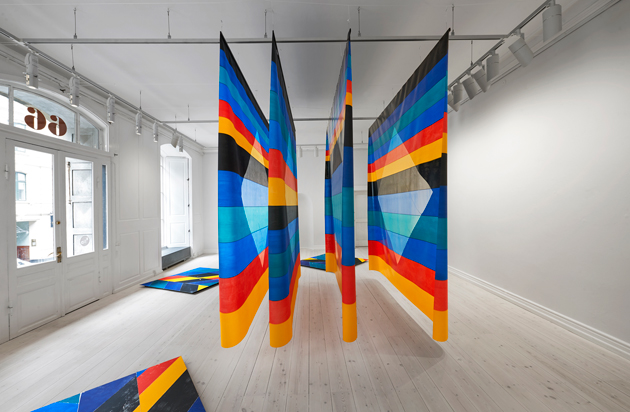 Ingrid Kæseler: 'Extract' 2019, installation view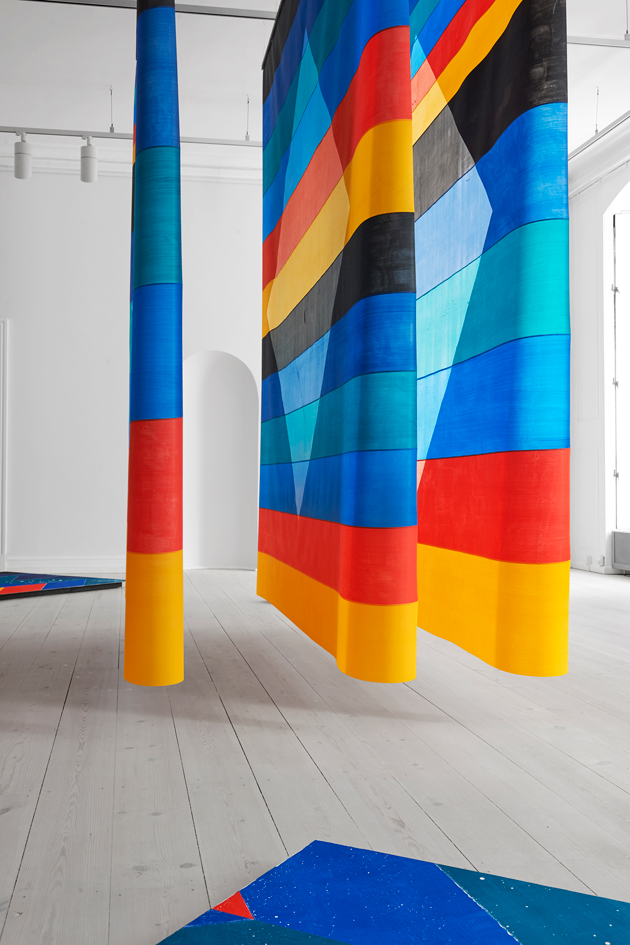 Ingrid Kæseler: 'Extract' 2019, installation view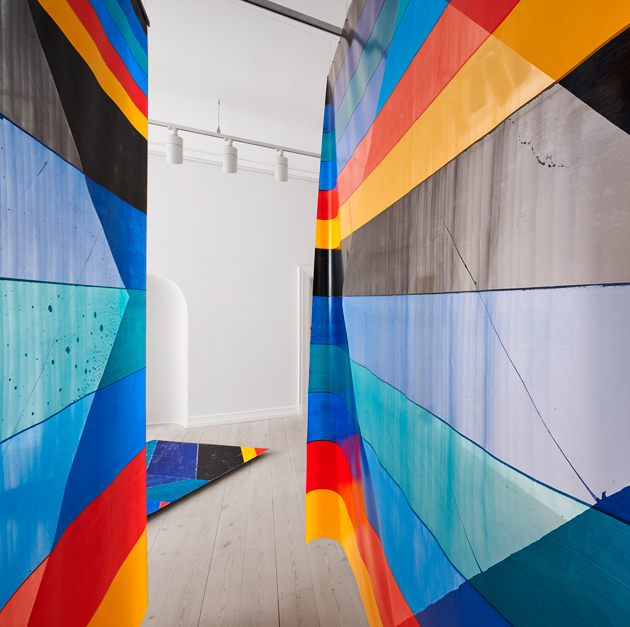 Ingrid Kæseler: 'Extract' 2019, installation view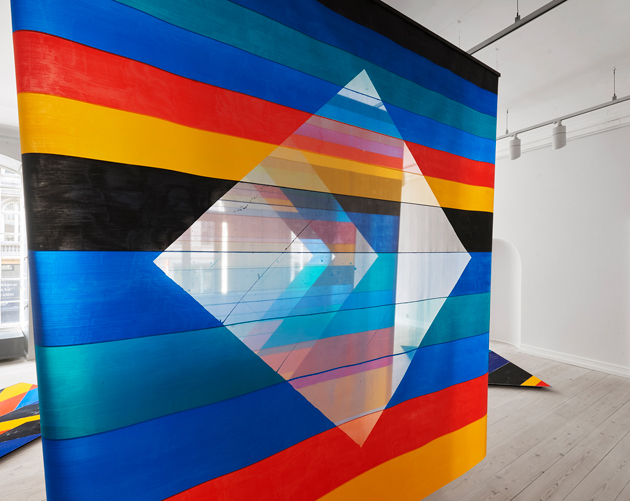 Ingrid Kæseler: 'Extract' 2019, installation view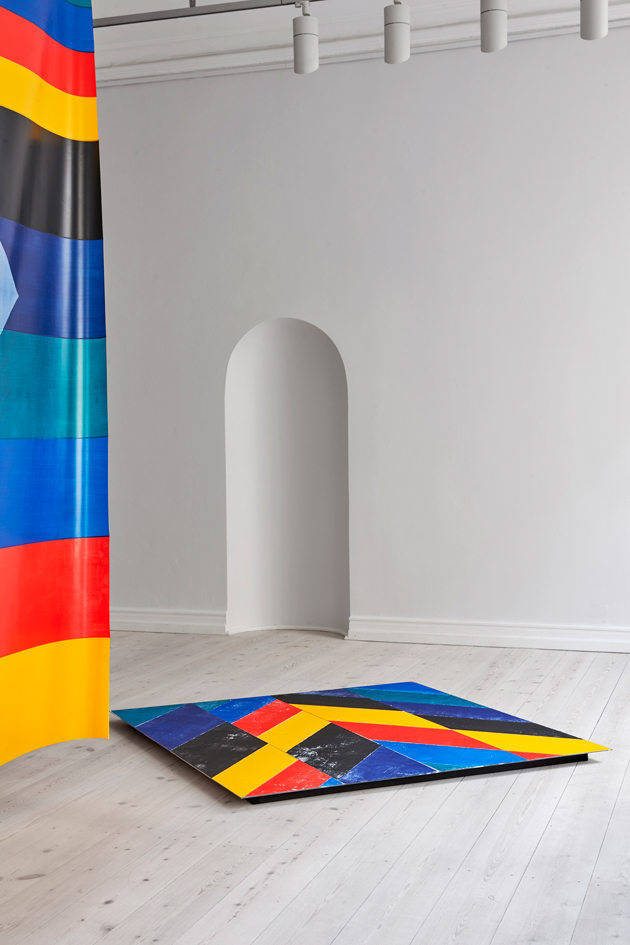 Ingrid Kæseler: 'Extract' 2019, installation view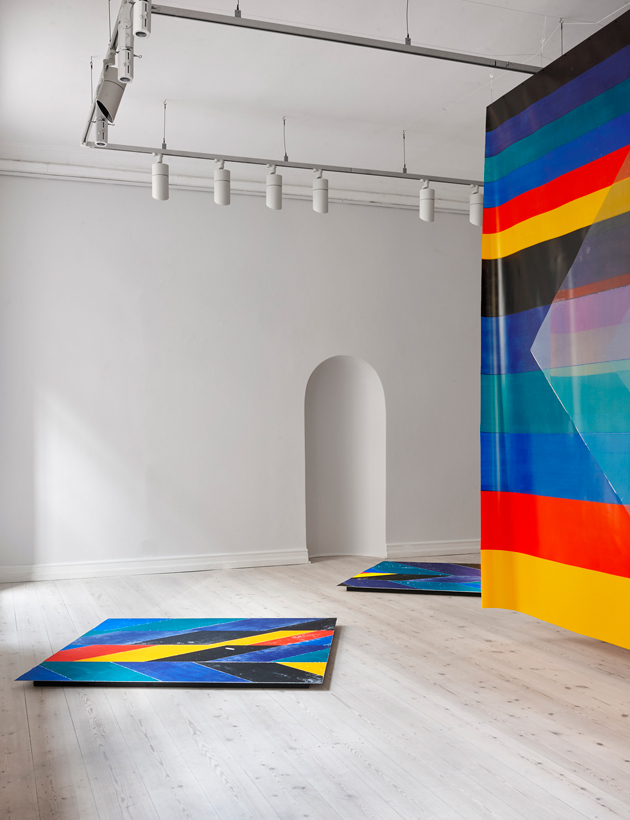 Ingrid Kæseler: 'Extract' 2019, installation view

Fotograf: Torben Petersen



Pressemeddelelse:
Extract

Billedkunstner Ingrid Kæseler udstiller nye værker i Officinet.


Med udstillingen 'Extract' har billedkunstner Ingrid Kæseler skabt en maleri-installation, der skubber til vores trang til at skabe mening og til at se sammenhænge. Fire frit hængende membraner af florlet, bemalet gaze synes næsten at svæve i rummet. De hænger side om side og skaber gennem transparens og spejling et tredimensionelt maleri, hvor alle lag er synlige. Gennem en leg med repetition fremstår de med små variationer, kun en anelse forskellige fra hinanden. De hænger let forrykket med små justeringer og forskydninger, som er med til at forøge og skærpe vores opmærksomhed.

Aluminiumsplader ligger på gulvet og spejler membranernes struktur og opbygning. Værkdelene har på et tidspunkt været samlet, men de er nu skilt ad. I denne delingsproces er farve ekstraheret fra membranerne, så store felter fremstår transparente. Således åbnes værket op med kig ind i æterisk sansemættede rum, der tillader lyset at gennemtrænger hele installationen, så den fremstår translucent. Membranernes materialitet, deres intense farver og stedvise transparens leder tankerne hen på fysiske fænomener, som prismer, lysbrydninger og krystallinske strukturer. Den ekstraherede farve, der sidder som aftryk på aluminiumspladerne, er modsat de krystallinske felter i membranerne, stærk og kraftig. Når pladerne sættes sammen, side ved side opstår en ny og anderledes orden, der dog som et ekko fortæller om en genklang i installationen, hvor del og helhed drejer sig om hinanden. I spillet mellem værkets forskellige elementer, anspores beskueren til at gå på opdagelse og lægge mærke til sammenhænge, der åbner op for noget, som vi ikke var opmærksom på før.


Press release:
Extract

Visual artist Ingrid Kæseler exhibits new works in Officinet.


Ingrid Kæseler has with the exhibition 'Extract' created an exhibition that push our urge to create meaning and make correlations. Four free hanging membranes of airy, painted gaze seem to flow in space. They hang side by side and form a three-dimensional painting using transparency and reflections where all layers are visible. Through a play with repetition the membranes appear slightly different with only minor variations. They are placed with minute dislocations and adjustments, which contribute to a sharpening of our awareness

Plates of aluminium lie on the floor and mirror the structure and composition from the membranes. The single parts of the work were at one point united but have now been split. Within this parting process is colour extracted from the membranes where large fields now appear transparent. In this way the artwork is opened allowing a view into an ethereal space saturated with sensorial impressions where light is allowed to penetrate the complete installation leaving a translucent impression. The materiality of the membranes, the intense colours and the localised transparency guide the thoughts towards physical phenomena such as prisms, refraction of light and crystalline structures. The extracted colour that now is placed as an imprint on the aluminium plates appears strong and powerful in opposition to the crystalline fields in the membranes. When the plates are combined side by side a new and different order occurs. However, as an echo they tell about a resonance within the installation where the single parts and entirety intertwines. Within the play between the single elements of the artwork the beholder is encouraged to explore and notice connections, which we previously were unaware of.



www.ingridkaeseler.dk